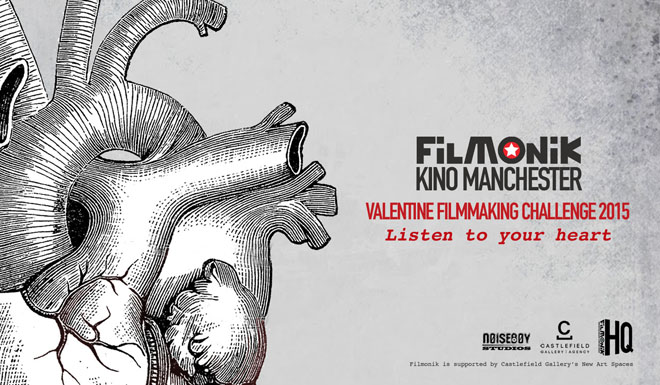 It's time to get all loved up and explode your fuzzy feel-good pheromones upon the Filmonik Valentine Event!!
13th FEB to 15th FEB ~ Filmonik HQ, 3rd Floor, Federation House, Federation Street ~ £5 entry to screening, FREE for filmmakers
The 2015 Valentine Event is a filmmaking challenge AND an open screening – take part in the 48hr challenge OR bring a short film along for all to see.
13th FEB – LAUNCH NIGHT
Come on down at 7pm for the launch of the filmmaking challenge. Catch up on the challenge rules, see who's involved and start brewing your ideas for the screening on the 15th.
14th FEB – FILM HUB OPENS
Filmonik HQ will be open and a meeting point/ filmmaking hub from 10am. Tumble in and take a break from your endeavors, make out on the sofas, whatever.
15th FEB – SCREENING
Filmonik HQ will be open again from 10am. Get your films finished by 6pm. The doors open at 7:30 for the screening. For all challenge or OPEN SCREENING films, please go to the
SCREENINGS
page at filmonik.com for advice on how to compress your films prior to the screening.
Remember to include the OFFICIAL END-SLATE – available
here.
THIS EVENT IS ONLY OPEN TO PEOPLE AGED 18 OR OVER.
Tickets on the door -
£5 (DISCOUNTS FOR STUDENTS)
For more information, visit
www.filmonik.com
or email info@filmonik.com
Filmonik is supported by Castlefield Gallery's New Art Spaces. For more information visit
http://www.castlefieldgallery.co.uk/associates/newartspaces