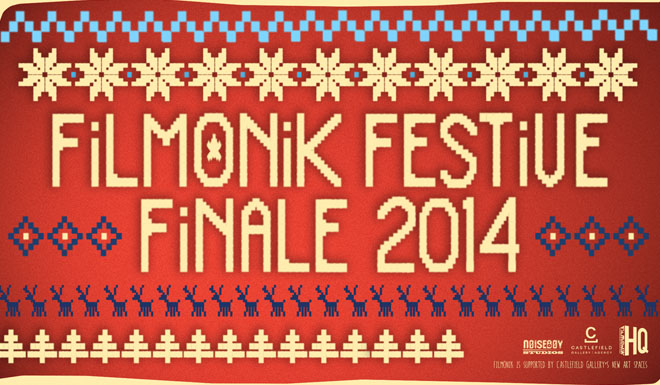 December 12th to 14th @ Filmonik HQ, Federation House
Filmonik is waving goodbye to 2014 with a Christmas Challenge AND an Open-Screening!!
From the 12th to the 14th of December, we are holding a 48hr filmmaking challenge with a chance of winning some festive prizes for you and your team! The Open-Screening will also be in full swing, so whether you want to join the challenge, present a film you've already created, or simply enjoy watching some brilliant local shorts, here's some dates to put in your diary:
12th December – Christmas Challenge Launch Night – 19:00
Filmmakers of all shapes and sizes are invited to Filmonik HQ (on the corner of Balloon Street and Federation Street) for the official launch of the 48hr challenge. We will be announcing all the guidelines you'll need in order to complete the challenge and be in with a chance of winning the grand prize!! (which will also be revealed!).
Filmonik HQ will be open as a meeting hub at certain points over the following two days. And the rest is up to you. Use whichever skills are at your team's disposal in order to get your films made in time for the screening on the 14th.
13th December – Meeting Hub Opens – 10:00 till 19:00
We will be opening the doors to Filmonik HQ as a meeting-hub at 10:00 in the morning. Feel free to drop by for a coffee, a biscuit, or even a mince pie if you're lucky!
We will also be open from 10:00 the next day.
14th December – The Open-Screening – 19:30
Tickets - £5 on the door @ Filmonik HQ. BYOB!
All films are welcome at the Open-Screening! If you already have a film that you'd like to screen, please email info@filmonik.com or message our Facebook admins. Then bring your film along on the night on a usb-stick or DVD.
However, if you've completed the 48hr challenge and your film is ready to be presented, your name will be entered into the challenge prize-draw with a chance of being chosen at the end of the night!
And for everyone else, we'll be holding a special Christmas tombola just for the audience. Buy your raffle tickets on the door with a chance of winning even more stocking fillers!
(All films must include the Filmonik Christmas end-slate, AVAILABLE HERE - http://u.cubeupload.com/filmonikblogger/FilmonikFestiveFinal.jpg
If you have any questions, don't hesitate to message the Facebook-admins, or email info@filmonik.com.
See you there!
THIS EVENT IS OPEN TO AGES 18 AND OVER ONLY