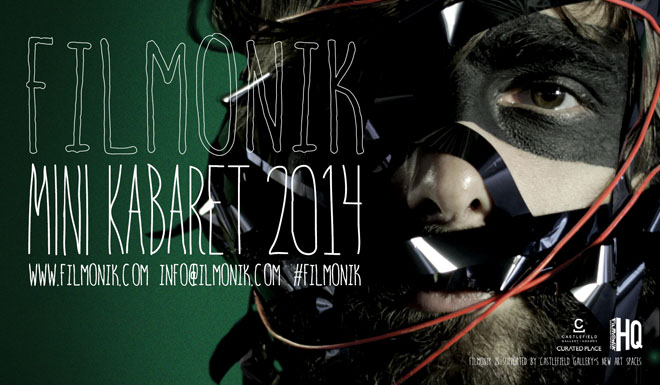 Announcing the second and final Filmonik Mini Kabaret of 2014. Sign up today for our 5-day, 2-round finisher, with some bold new surprises in the mix:
29th OCT to 2nd NOV ~ Filmonik HQ, New Art Spaces, Federation House, Federation Street, Manchester ~ All rounds - £25, first round - £10, second round - £15
This year's Autumn-mini features one extra session, and big changes to each:
28th OCT - LAUNCH NIGHT @ Filmonik HQ
Have a mingle with the rest of the attendees before the event officially starts.
29th OCT - 30th OCT ~ The Halloween Quickie
The Kabaret begins with a 48hr micro-round, with a a focus on keeping things short and resourceful. Let your imaginations loose, but feel free to lean towards dark themes.
31st OCT - 2nd NOV ~ The NON-GENRE Round
ANYTHING GOES! From silent movies to conventional narratives, video art to music videos - all doors are open. Or take time to go beyond the filmmaking norms - conventional film genres, three-act structures, morals, tropes and other rules. We're putting the spotlight on film-as-art for 72 hours (look for more information in the coming weeks).
Each session begins with a production meeting (10:30am). This will be your opportunity to introduce yourself or the film you want to create. Then it's time to seek assistance from a host of talented actors, filmmakers, musicians and more, including you! Open your ideas to the community at hand and get ready to create or collaborate.
The final day of each round finishes with a public screening. Present your films live and get a chance to see what everyone else has been up to over the past few days.
Join us for this unique Kabaret by signing up via the links below. We'll see you at the launch!
TICKETS AVAILABLE here
Official end-slate available here
THIS EVENT IS ONLY OPEN TO PEOPLE AGED 18 AND OVER
Tickets for public screening only - £5 (on the door) STUDENT DISCOUNTS!!
For more information, visit www.filmonik.com or email info@filmonik.com
Filmonik is supported by Castlefield Gallery's New Art Spaces. For more information visit
http://www.castlefieldgallery.co.uk/associates/newartspaces