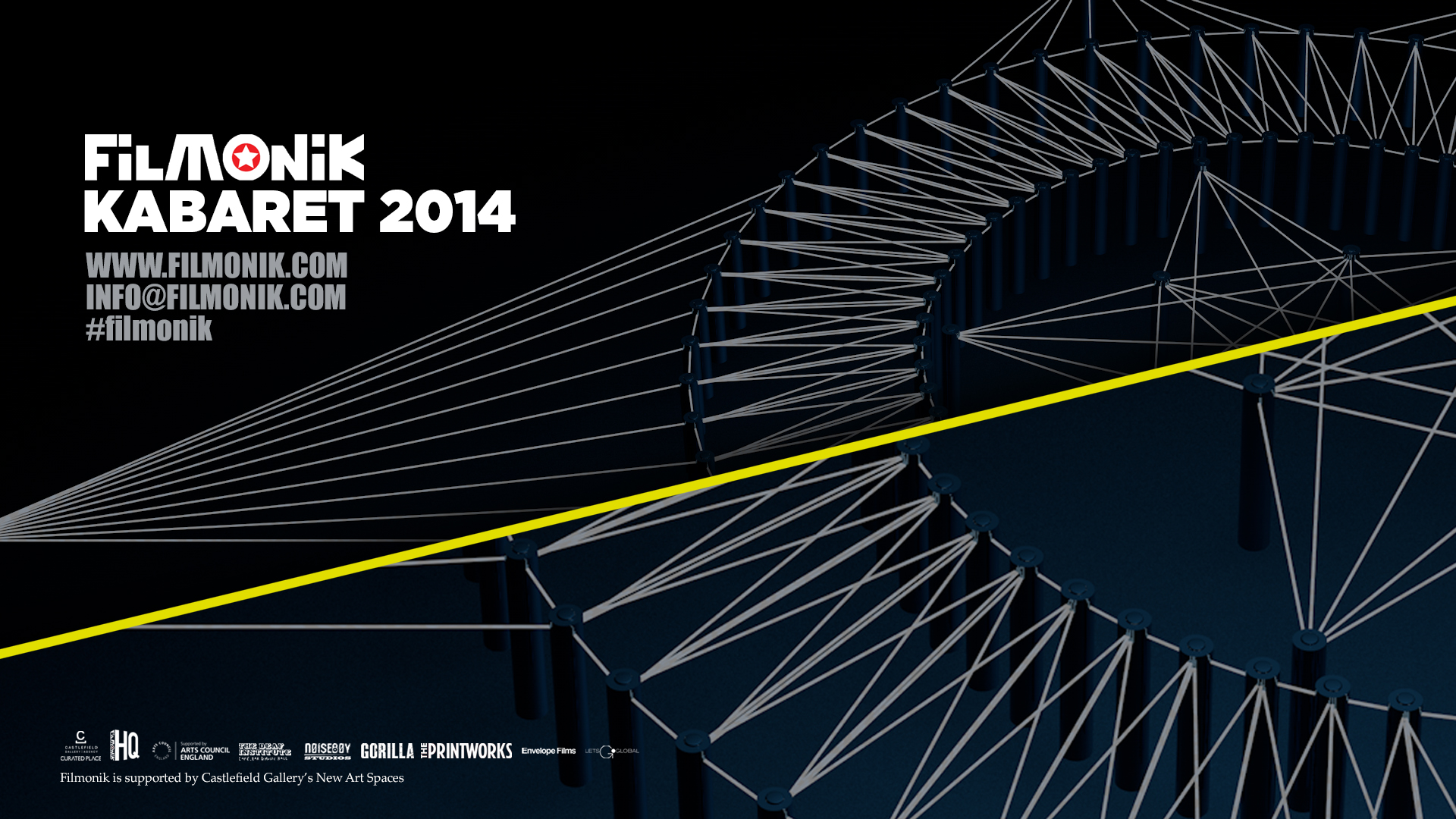 The time has finally come to announce Filmonik's first full-length Kabaret at Filmonik HQ!
24th July to 3rd August ~ Filmonik HQ, New Art Spaces, Federation House, Federation Street, Manchester, M60 0AF ~ All rounds - £50, single-round - £20
For the first time in a long time, Filmonik will be hosting a 3 ROUND Kabaret! For ten days, the lab at HQ will be available 24/7 as your editing suite, green-screen studio, kit prep & hire venue, lunch-hall, storyboard prep & pitch station, chillout space and more. It's up to you to lay your hands on whatever and whoever's available to make short films in time for each public screening:
LAUNCH NIGHT ~ 24th July, 7:00pm
On the 24th of July, we'll be kicking off the Kabaret with a bang! Head on down for drinks and mingling, and get yourself revved up for the week ahead.
Round 1 ~ July 25th – July 27th
The first of our three, 3-day rounds. Ease yourself in slowly or hit the ground running and set your bar high!
Round 2 ~ July 28th – July 30th (Silent Movie Round)
A new addition to the Manchester Kabaret. No pre-recorded audio can be played at the screening. Instead, all music or sound effects must be created live!
BREAK ~ July 31st
Take a chance to get away from the Kabaret madness! (The lab will be closed during the day)
Round 3 ~ August 1st – August 3rd
Leave no leaf unturned, no idea unused and no film unmade. Cap off one of the biggest Kabarets Manchester's ever seen with a round to end all rounds.
Each round begins with a production meeting. This will be your opportunity to introduce yourself or the film you want to create. Then it's time to seek assistance from a host of talented actors, filmmakers, musicians and more, including you! Open your ideas to the international community at hand and get ready to create or collaborate.
The final day of each round finishes with a public screening. Present your films live and get a chance to see what everyone else has been up to the past few days.
Our full-length Kabaret gets bigger every year – more attendees from more countries worldwide, more audience members and now, more rounds. Don't miss out on the biggest Filmonik Kabaret yet! We'll see you on the 24th…
KABARET TICKETS AVAILABLE HERE!
Official end-slate available here!
THIS EVENT IS ONLY OPEN TO PEOPLE AGED 18 AND OVER
Tickets for public screening only - £5 (on the door)
For more information about the Kino Kabarets, click here.
For more information about Castlefield Gallery and New Art Spaces, click here.
For any further queries, please email info@filmonik.com